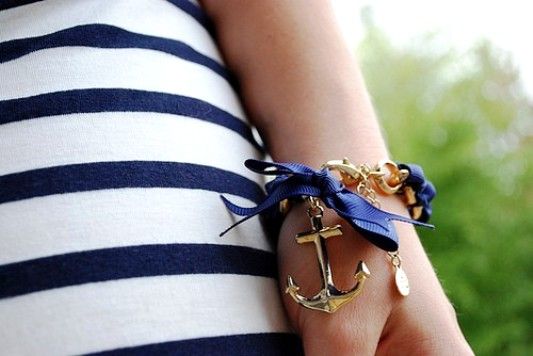 Once again, nautical fashion has hit the runways just before women across the northern hemisphere prepare to hit the deck. Whether you live in a landlocked area where the only decks look out across swimming pools and backyards or your summer holidays entail actually sailing the ocean blue, it's time to prepare for your
boat exam
!
1. Start with the shoes.
Too often shoes are an afterthought, but this fashion essential often holds the key to successful style. For true sailors, boat shoes provide the perfect beginning to any nautical outfit. New 2012 fashions feature multiple tones of a single hue or complimenting color pallets. One of the year's hottest boat shoe fashions introduces footwear in sailor blue with white rope-style trim . For women who prefer an open design, sandals in blue, white or red and featuring nautical accents like anchors, boat wheels or rope designs provide a great basis for stunning on-deck style.
2. Shirts
Once you have the perfect shoes, pick your primary articles of clothing. Be sure to find styles that compliment your size and shape. Slender women look great sporting horizontal stripes in classic nautical colors. Women with a few extra pounds or larger busts will look better in designs that feature well-placed, contrasting applications or diagonal prints.
3. Pants
If the weather isn't too warm, a pair of dark blue jeans cuffed at the lower calf provides an ideal match for a red-striped blouse and classic boat shoes. For warmer days, comfy pants in blue, white or neutral shades pair great with the nautical top of your choice. Flirty skirts in red, blue or white with solid color blouses and a nautically inspired belt will look great with your favorite pair of maritime-inspired sandals.
4. Don't forget the beachwear.
If you're on-deck, chances are that soaking up some sun or playing in the waves is on the agenda. Comfortable sailing cover-ups hiding a sizzling sailor girl bikini leave only one question to be answered: Sailor hat or no sailor hat?
5. No fashion is complete without accessories. Stackable bracelets or maritime-inspired cuffs polish the nautical look for a day on the boardwalk. Gold or silver necklaces featuring a single anchor or boat wheel draw just enough attention to dipping necklines. Small earrings nautical shapes add a finishing touch without hindering recreational activities.
Whatever your plans involve this summer, make sure you prepare with the best maritime fashions of 2012.